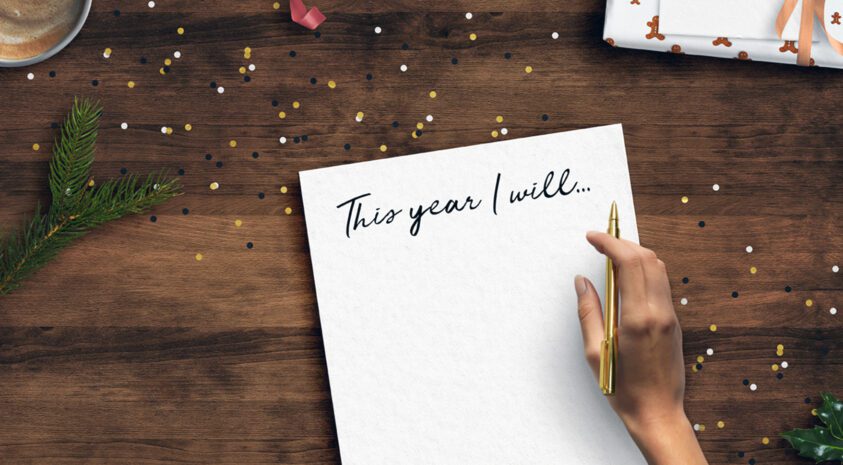 7 Financial New Year's Resolutions for 2023
The new year is just around the corner, and for many of us, that means it's time to start listing those New Year's resolutions. Most people make resolutions that are focused on their physical or mental health. But have you ever considered making New Year's resolutions regarding your financial health? Here are seven resolutions that can help you start the new year off on the right foot and create a more positive relationship with money.
#1. Make It A Family Affair
If you have kids, it's important to teach them smart financial habits at an early age. Subjects like financial planning and retirement education should be regular topics of conversation around the house.
You can set a goal to teach your kids about money no matter how young they are. Even very young children learn by example — by watching you follow your budget and pay your bills. Elementary school aged children can earn an allowance by doing chores. Have them save at least 10% of each "paycheck."
Teenagers can get a job and earn larger amounts of money. Show them how to set a budget; open bank accounts; and establish credit. Talk with them about what they want to do after high school. How much would college cost? How much could they expect to earn with an entry-level job in their desired career? Explain how your salary works and what deductions are taken from your paycheck.
By helping your children start good financial habits when they're young, they will be more likely to continue following those habits throughout their life.
#2. Regularly Review Your Assets
Review your portfolio of investments and assets throughout the year. Examples of financial assets might include:
Cash
Stocks
Bonds
Bank accounts
Mutual funds
It's important to review your financial plan because you may need to adjust things as your goals evolve and change. Sitting down to review your assets every few months will allow you to complete any housekeeping tasks that need to be done, while making sure you're still on track to meet your current goals.
#3. Stick to A Budget
You've probably heard this one from every source: Make a budget and stick to it. Easier said than done, right? Don't despair! With a little commitment, 2023 can be your year.
If you have trouble keeping within a budget, reevaluate your current budget. You should include the following three expense categories:
Fixed expenses (such as your rent or mortgage)
Variable expenses (such as groceries or gas)
Periodic expenses (such as car maintenance)
It's also a good idea to count savings as a fixed expense each month. You could even consider asking your employer if they would split your paycheck, sending part of the money straight into your savings account.
Be willing to re-evaluate your budget throughout the year. Some items or services might be more expensive during certain months or seasons. When your living expenses are lower, use any extra money in your budget to pay off debt.
#4. Build an Emergency Fund
Many experts think we will experience a recession in 2023. This makes your emergency fund more important than ever. This fund should be separate from your personal savings account. It serves as your safety net in case of unemployment or illness.
Your emergency fund should contain approximately 3-6 months' worth of your living expenses. If you don't have a good idea of how much money you need each month, track your expenses over the next 30 days. Anything you can't live without — such as your rent or mortgage, your grocery bill, gas or transportation, and medical expenses — counts as a necessary living expense.
Tuck away a few hundred dollars in your emergency fund each month. Don't use this money for anything except a true emergency. If you do need to withdraw money from this account during the year, build it back up to that goal dollar amount as quickly as possible.
#5. Improve Your Credit Score
A good credit score opens the door to loans, mortgages, or new credit cards. You're more likely to get approved for these things if your credit score is strong. Typically, a credit score that's 670 or up is considered good.
The easiest way to improve your credit score is to make payments on time. Set up automatic payments so you can pay every loan or credit card payment within 29 days. If you have credit card debt, work out a plan to pay it off as soon as possible.
Your credit score might not change overnight. Commit to being consistent with your payments and keeping your balances low. These repeated smart decisions will make a difference in your credit score over time.
#6. Create A Will
If you don't already have a will, set a goal of making one by the end of 2023. A will determines who will get your property and assets when you die. Every adult should have a will.
Your will doesn't have to be complicated. Simply make a list of your assets — these might include your home, car, bank accounts, life insurance policy, pets, and family heirlooms — and who you would like to receive each one.
Next, choose an executor (a person who will carry out your will after your death). If relevant, select guardians for your children, too. Then follow your state's guidelines to sign your will. Store it in a safe place and make sure your executor knows where it is.
#7. Evaluate Your Insurance
Take some time at the beginning of the year to assess your current insurance plans for health insurance, homeowners insurance, car insurance, and life insurance. Are these policies meeting your needs? Could you find a better, more affordable option?
If you aren't sure where to start, a Bankers Life financial representative can help. Our representatives are ready and willing to answer any financial questions you have. Contact us today to get started with your 2023 New Year's resolutions!
This material provides general information about the described insurance product(s) for educational purposes only. This is not intended as investment advice or to recommend the insurance product(s).
Bankers Life Securities, Inc., Bankers Life Advisory Services, Inc. and their representatives do not provide legal or tax advice. Each individual should seek specific advice from their own tax or legal advisors.
Bankers Life is the marketing brand of affiliated companies of CNO Financial Group including, Bankers Life and Casualty Company, Bankers Conseco Life Insurance Company (BCLIC), Colonial Penn Life Insurance Company, Bankers Life Securities, Inc., and Bankers Life Advisory Services, Inc.  Non-affiliated insurance products are offered through Bankers Life Securities General Agency, Inc. (dba BL General Insurance Agency, Inc., AK, AL, CA, NV, PA).  BCLIC is authorized to sell insurance in New York.
Securities and variable annuity products and services are offered by Bankers Life Securities, Inc. Member FINRA/SIPC, (dba BL Securities, Inc., AL, GA, IA, IL, MI, NV, PA).  Advisory products and services are offered by Bankers Life Advisory Services, Inc. SEC Registered Investment Adviser (dba BL Advisory Services, Inc., AL, GA, IA, MT, NV, PA).  Home Office: 111 East Wacker Drive, Suite 1800, Chicago, IL 60601
Investments are: Not Guaranteed-Involve Risk-May Lose Value.