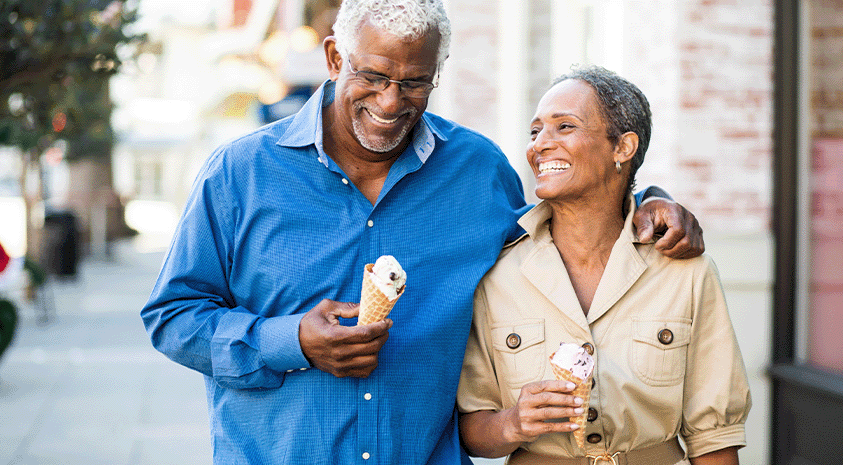 Investing in Your Retirement
When you get to be of a "certain age" you are bombarded with messaging about the importance of having saved for retirement along with warnings that you may not have invested as much as you'll need. While it's important to heed the alarm, don't panic! Taking a long view of the retirement game can help you sprint across the finish line with a win!
Consider your options
There are many types of retirement funds such as:
IRA's can be traditional (which are usually tax deferred), Roth which are post-tax savings or those that are simply rolled over from another retirement account.
401k's are employer sponsored accounts that you contribute to while also possibly receiving a company match.
Annuities are insurance products that typically pay income over time after you contribute a lump sum or make periodic payments to the account.
Don't delay! Start today!
It's important to remember that it's never too late to start saving for retirement to help you to achieve your goals. The type of investments you should include in your portfolio depend on your goals and many other factors you will need to weigh:
How long is it before you plan to retire?
Are you comfortable with taking some risk with your investments?
Do you have current debt or obligations that need to be paid?
What is your vision for your retirement lifestyle?
Creative retirement investing
While it may seem that retirement investing plans typically follow a tried-and-true approach, there are ways that you can help you be creative in your investment strategies:
Depositing incremental saving increases can add up in a big way. Each time you add a bit more savings through auto-deposit you are most likely not going to notice the impact. However, when you retire, you will have boosted your savings exponentially.
Investing any windfall monies that you may receive through inheritance, pay raises, tax returns or employment bonuses can help boost your retirement savings. It is money that you weren't counting on anyway, so why not put it to work for a secure retirement?
Meeting the contribution level that your employer is willing to match on a 401k is a smart move, otherwise, you are leaving cash on the table that could eventually be in your pocket.
Maximizing all investment options is the best move whenever possible, however, if you are at least 50 years old, you may be eligible for catch-up contributions to a 401k or IRA (depending on the type of account you hold).
Exploring sustainable investment options can be a rewarding way to invest. You may find that you can make the world a better place while also saving for your future. It's a win-win!
Budget now and reap the benefits 
Setting up a realistic retirement budget now will help to ensure that you are able to support yourself throughout your retired years. You don't need to accomplish your goals overnight. It's okay to work toward them slowly and steadily. If you aren't sure how much money you will need in retirement you can access this helpful calculator to get started.
Don't look too far ahead
Whether you are new to saving, or planning an increase in contributions, it's best to take a short and long term look at your goals. Make sure that you are paying off current debt, making plans for long term care and insurance, too.
You can prevent added stress by boosting savings and creating an emergency fund if you do not already have one in place. The Consumer Financial Protection Bureau has written an informative guide that gives tips and strategies for setting up a fund that will provide you with added financial security now and in the future.
Your plan need not be set in stone
Once you have a plan in place, you need to continue to monitor it and make changes. Consider reaching out to a financial representative to help you navigate retirement planning so that you don't have to plan alone. If you take charge of your finances now, you will reap the benefits later!
Bankers Life Securities is here for you! We understand the stresses and strains of the retirement planning process. We can answer questions, review portfolios and help create financial plans. Call us to get started (844) 553-9083.
This material provides general information about the described insurance product(s) for educational purposes only. This is not intended as investment advice or to recommend the insurance product(s).
Bankers Life Securities, Inc., Bankers Life Advisory Services, Inc. and their representatives do not provide legal or tax advice. Each individual should seek specific advice from their own tax or legal advisors.
Bankers Life is the marketing brand of affiliated companies of CNO Financial Group including, Bankers Life and Casualty Company, Bankers Conseco Life Insurance Company (BCLIC), Colonial Penn Life Insurance Company, Bankers Life Securities, Inc., and Bankers Life Advisory Services, Inc.  Non-affiliated insurance products are offered through Bankers Life Securities General Agency, Inc. (dba BL General Insurance Agency, Inc., AK, AL, CA, NV, PA).  BCLIC is authorized to sell insurance in New York.
Securities and variable annuity products and services are offered by Bankers Life Securities, Inc. Member FINRA/SIPC, (dba BL Securities, Inc., AL, GA, IA, IL, MI, NV, PA).  Advisory products and services are offered by Bankers Life Advisory Services, Inc. SEC Registered Investment Adviser (dba BL Advisory Services, Inc., AL, GA, IA, MT, NV, PA).  Home Office: 111 East Wacker Drive, Suite 1800, Chicago, IL 60601
Investments are: Not Guaranteed-Involve Risk-May Lose Value.