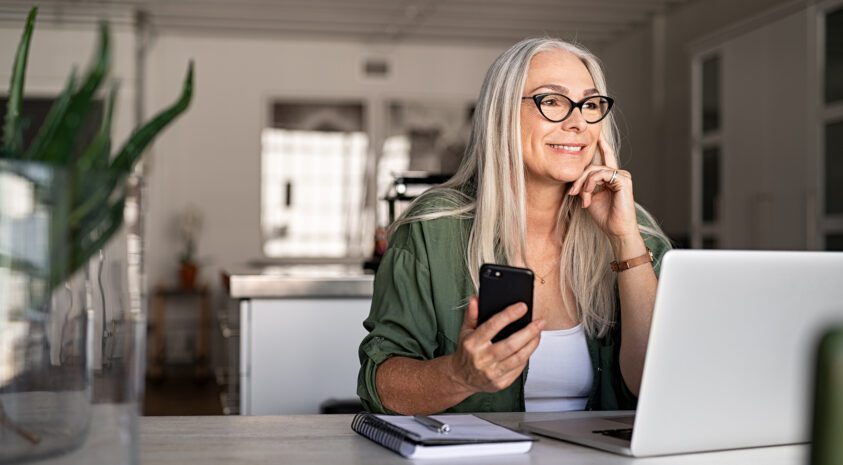 National Retirement Planning Week: Women and Saving
National Retirement Security Week happens each year in October, and there's no better time to make sure your retirement plan is in tip-top shape. This is especially important for women — if you're married to a man, you're likely to outlive your spouse, and the financial decisions will be left to you.
Read on to learn about the importance of retirement saving and how to do it best.
Why Women Need to Save for Retirement
Saving for retirement is incredibly important for everybody, but especially for women. Baby Boomers in the U.S. currently have $30 trillion in financial assets. And by the year 2030, women will control the majority of this money.
Why? Women have a life expectancy that is five years longer than men. (Globally, this number is even higher, with women outliving men by an average of seven years.) When male Baby Boomers pass away, their wives will receive their financial assets. This means women need to be prepared to manage the wealth that will likely come into their possession.
Reasons to Save
If you are a woman who is currently married to a man, there's a good chance you will need to make financial decisions alone in the future.
It's also important to know that the decisions you make today can directly impact your future. For example, women are more likely to grow old by themselves. If you're alone as a senior adult, you might need caregiving services — and you want to make sure you can afford long-term care.
This reality isn't meant to scare you. Instead, it's meant to encourage you to start preparing now. By taking action to learn the best methods of saving for retirement, you can feel empowered to handle whatever comes your way.
Retirement Planning Trends
Thanks to inflation, the COVID-19 pandemic, and other trends, the best methods of retirement planning have evolved. You might need to tweak your plans as you look forward to what's coming next.
Inflation
According to Bloomberg, U.S. households are spending an extra $5,200 this year ($433 per month) compared to last year for the same amount of goods. The cost of living is becoming more expensive and many Americans state they are under more financial stress. This means you may need to plan for inflation in retirement.
Choosing the right kind of investment can help mitigate the risk that you'll be unable to afford what you need in retirement. Stock investments could help you stay in front of inflation. Bonds with a shorter duration can reduce risk, too. Or try fixed indexed annuities (FIA).
COVID-19 Pandemic
The COVID-19 pandemic has affected every area of our lives. It's no surprise that retirement is included, with the pandemic disrupting retirement plans for 35% of Americans.
We're seeing additional retirement planning trends in the wake of the pandemic, too. 17% of Americans are saving less money for retirement, but 16% are saving more. Many of the high savers are concentrated in the Northeast or among millennials (age 25-34).
The pandemic also revealed interesting gender differences when it comes to saving for retirement. 59% of men were saving more, compared with only 41% of women.
Unretirement
A phenomenon called "unretirement" is becoming more and more common in the U.S. At a basic level, this means people who have already retired decide to rejoin the workforce.
CNBC states that the level of workers who retired due to COVID but then came back a year later is around 3.2%. People might decide to unretire if they aren't able to afford living expenses.
Creating Your Retirement Plan
National Retirement Planning Week is an ideal time to reevaluate your retirement savings, especially for women who need to ensure their financial stability. Follow these steps for saving and planning.
Set A Goal
Figure out how much money you anticipate needing in retirement. Experts recommend replacing 70-80% of your pre-retirement income. However, this may vary for different situations. Maybe you live with chronic illness and anticipate higher healthcare costs. Or maybe you want to enjoy a more luxurious lifestyle. In these cases, you may need to save even more.
Partner With Your Spouse
Make sure you're well-versed in what's happening with your household finances. When you meet with a financial professional, schedule meetings at a time when both you and your partner can attend. It's a smart idea to get to know your financial representative in case there comes a time when you need to work more closely with them.
It's also important to know where your family's financial accounts are located. Your name should be on all of your accounts and investments. And if your partner does any maintenance tasks on these accounts, ask them to walk you through these tasks so you'll know what to do if needed. This includes having a list of passwords.
Seek Expert Advice
Retirement planning can be an intimidating topic. But you don't have to do it alone! An expert can help review your retirement accounts, giving you a good idea of where you are and where you should aim to go from here. They'll guide you on topics like how Social Security fits into your retirement plans and the best kinds of investments for inflation.
If you're looking for a representative who can show you options you have for retirement in light of current trends, we'd love to help! Contact Bankers Life to help you plan for retirement today.